This piece is going to include spoilers for Ultimate Spider-Man #160 AKA "The Death of Spider-Man" Part 5. Though I suspect it's rather difficult for anyone who is a big enough Spider-Man fan to come to this website to not know what happens in the story.
Aside from the most notable event in the story, there have been some discussions about the final page, and what it means for the future of the Ultimate Green Goblin.
And I'm reminded of what Bendis wrote in his introduction to a special reprint of Amazing Spider-Man #14:



This is it! This is the shadow every single comic book creator has been chasing for forty years, the long twisted shadow of the greatest comic book villain ever created, (no, not Rob Liefeld) Norman Osborn!



Oh, pipe down with your Joker talk and your Doctor Doom whining, I don't want to hear it! Norman Osborn was the finest villain ever concocted. And my point is extremely well illustrated in a recent issue of Tangled Web where comic book scribe Ron Zimmerman fashioned a scene with all of Spider-Man's villains sitting in a bar trading war stories. The issue ends with Norman Osborn revealing himself and bragging the ultimate Spider-Man villain brag: "I killed the woman he loves." The other villains fall silent. They have nothing to top that.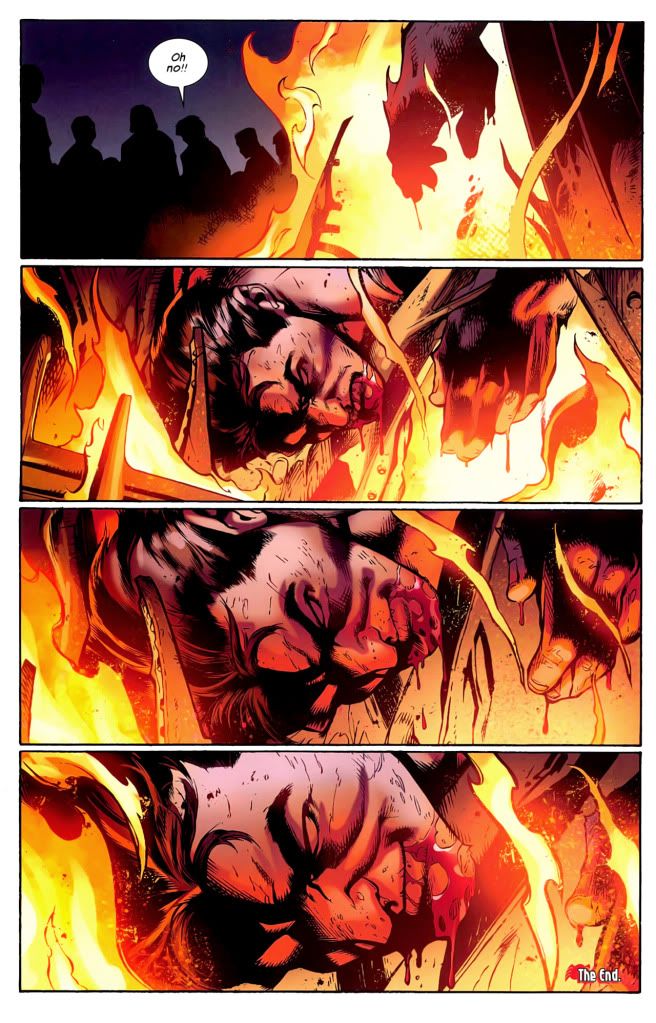 The Ultimate Green Goblin has managed to top the original, with an even nastier bit of super-villainy. He actually killed the hero, even if he needed a bullet from the Punisher and the aid of the rest of the Sinister Six to pull it off. This is arguably Bendis's version of "The Night Gwen Stacy Died."
It's possible that the Green Goblin died with a smile on his face, but it would fit Bendis's view of the character to have him survive. The Ultimate Universe no longer has Magneto or Doctor Doom. But they've still got the greatest comic book villain ever, according to the line's top writer. Except Osborn's now succeeded where no villain on his level succeeded.
And it's going to be a big deal when he battles Peter Parker's successor, the next Spider-Man.