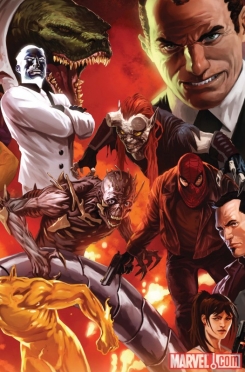 Well my really late review for Amazing Spider-Man 644 is finally up. Unfortunately I don't have as much time as I used to. Anyway, here it is. It starts with the return of Peter Parker's P.O.V, something we don't see too often these days.
The story
All over the city, women are storming into police stations, claiming that Spider-Man has taken their baby. In the meantime, Spidey is still, running and fighting off bad guys, looking desperately for some place safe - preferably the Avenger's Tower.
I think the author was tryna point out that everyone in the city was had negative feelings toward Spidey. In one scene, he tries to ask a nursing mother for some quick tips and help. The lady runs away, yelling at Spidey to keep away from her baby. Spidey continues to be attacked by villains and is eventually attacked by the Rhino (original Rhino that is). Strangely, Rhino is here for Spidey, not the baby. Spider-Man manages to convince Rhino to fight another day, when the baby is safe. *weird*
Anyway, Carlie was last seen being approached by Tombstone in
Amazing Spider-Man 643
. He questions her asking if she knew Menace ( Lily ) personally. The police come in time, and Tombstone runs off with Shocker. The police ask Carlie what happened, but she states that she couldn't remember, in an effort to protect her once best friend - Lily.
We also learn that Doc Ock is working with someone else behind the scenes. Doc Ock reveals to the character that he has planted a Octopus tracer ( kinda like a Spidey tracer) on Spider-Man. He then tells the mysterious character to 'go' get him.
Elsewhere, MJ, Harry and Lily find a safe place to hide - quite literally, in a safe. Spider-Man eventually makes it to the Avengers tower, only to be attacked by the baby he's been carrying, who has now grown horns and sharp teeth. We later find out that he didn't actually reach the mansion as it was an illusion created by Mysterio, as was the baby growing horns and sharp teeth.
After fighting Mysterio off, Spidey makes a run for it and spots Harry, who had earlier mentioned to MJ that he had a plan to solve the problem. Spidey tells Harry to keep the baby and take it to a hospital. Spider-Man then carries a bundle of trash and goes to lead the crooks following him away.
After lots of fighting, he spots Harry, still standing in the alley. Spider-Man beats the $#!+ out of the crooks and goes to see whats wrong with Harry. Harry states that the baby died. Extremely pissed, Spidey goes out to chase the crooks further. We later learn that Harry was in fact the Chameleon, and the kid didn't die.
Again, the art here was not to my liking. I have to admit that I did not at all expect that the Harry in the alley was the Chameleon. Absolutely brilliant. My prediction is that the real Harry is going to appear in front of Spidey, claiming that he knew nothing of their previous encounter. Obviously from there Spidey will be able to draw the conclusion. I'm not too sure how this story will end. The baby could very well end up dead, in Dr Ock's hands, or safe someplace else. Overall, not too bad.