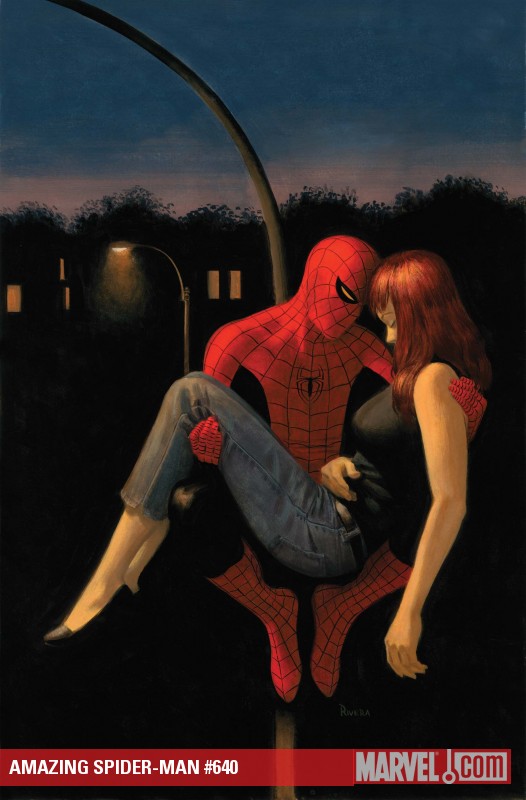 After reading this issue, I have to say that this story is certainly getting more and more interesting. The issue has also ended all speculations that Mephisto would appear in this issue in a form of a nurse - who we later find out is none other than MJ's Aunt Anna.
In the conversation between Peter and MJ, Peter reveals to her that the doctor told him that love was what saved Aunt May's life. ( A pretty bad reason ) For those who do not know, in the last issue, we find out that Peter saved his dying Aunt by performing a CPR on her after she was declared dead.
Anyway, there is a side story that takes place involving a creepy looking nurse, who has been hired by Fisk (King Pin) to keep an eye on Peter. She reports the news of Aunt May's survival to Fisk, who asks her to kill May. Upon refusing to do the job, Fisk hires someone to take out everyone on the 'List,' adding the nurse to the list.
Later, Aunt Anna makes a random call to MJ. She says that she feels unsafe and that she heard some noises outside. MJ, leaves the hospital while Peter is asleep to check on her aunt. MJ appears just in time to his the crook on his head with a vase before he can kill her Aunt. The Killer seems delighted to see his number two target ( MJ) standing in front of him. He chases MJ out the house and into the neighborhood for quite a while.
In the meantime, Peter wakes up receiving a call from Aunt Anna who explains how she was attacked, but is now safe. Aunt Anna asks about MJ. To cut the long story short, Peter realizes that MJ has gone missing. He turns into Spidey and goes after her. Fortunately he gets to her in time to save her life.
Realizing that the exposure of his secret identity has caused all his family to become targets, Spider-Man carries MJ to Dr Strange, requesting that he mystically erase everyone's knowledge of his secret identity.
Dr Strange asks Peter if he is sure that this is what he wants, implying that some pretty bad consequences may result because of the mind wipe. Peter confirmed his decision and Strange disappeared into the spiritual world.
In their conversation, Peter tells MJ that he still does not know where Strange went exactly, nor does he really care. The final page, shows where Strange went - to visit Tony Stark and Reed Richards to ask if they are agreeable.
Thoughts
It was really weird to see Mary Jane referred to as Peter's girlfriend instead of wife. Nonetheless, its nothing too hard to get used too. As many suspected, the cover for ASM 641, with MJ and Peter in the mist has something to do with Dr Strange. How Stark and Richards tie into this I have absolutely no idea. I'm guessing the mind wipe is probably what caused MJ and Peter to break up in someway or another.
Any other ideas?