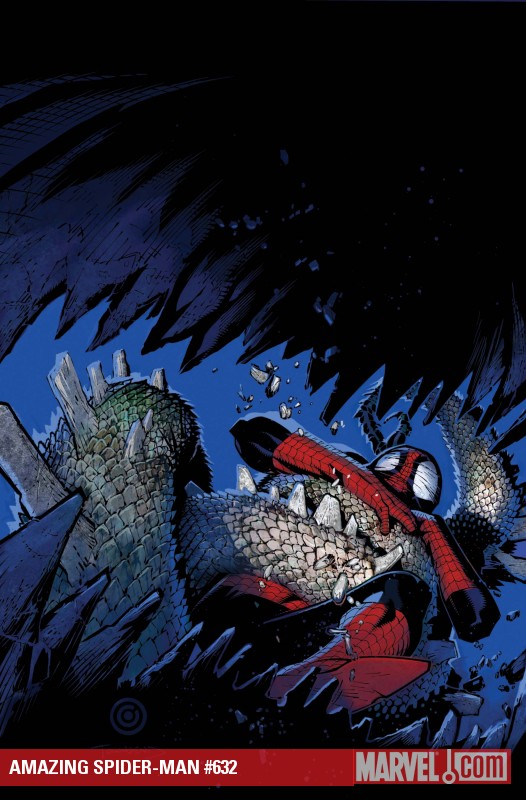 Like all of Spider-Man old enemies - Rhino, Vulture, Electro, Sandman etc, the Lizard too has recently had some improvements. The Lizard now has a slightly cooler look, and is less primitive. He is now able to speak and can mind control others.
The Story
It starts with Spider-Man telling himself that there was nothing he could have possibly done to prevent the death of Billy Connors - the son of Dr Connor. In the previous issue, Spider-Man was busy getting help for Billy's mother, while the Lizard suddenly disappeared. At that time Spider-Man did not know it, but the Lizard had caught Billy scent and proceeded to kill his son.
Standing in the murder scene Spider-Man notices that the Lizards body is on the ground. It appears as though he too is dead. Strangely enough, something starts to scratch its way out of the body. A new lizard comes out of the shed skin.
This Lizard can talk, explaining to Spider-Man that once Billy died, Connors had no reason to hang on. The Lizard is now fully in control, with a more intelligent brain than before. Outraged, Spider-Man proceeds to fight his enemy. The fight comes to a halt when the Lizard starts mind awakening the 'lizard' within Spider-Man.
Apparently, every human has a lizard hidden deep down within himself. With a lizard brain, Spider-Man sees that he is a prey to this new Lizard. He instinctively makes a run to escape the predator. He is next seen at the original crime scene - Phelcorp lab with Carlie. He explains to Carlie what happened. Carlie gives him an update on what Connors was working on. She also passes him a bag of Connor's antidotes and a picture of Billy upon request.
The final scene shows the Lizard walking into the city and awakening the 'lizard' brain in all the bystanders in the city, causing instant havoc.
Overall a very good story. Its nice to see that even the Lizard has an opportunity to upgrade himself. I have to say that I did not see this coming however. As far as the reasoning and explanation for all this, it makes absolutely no sense, unless you believe that humans evolved from lizards. No point getting into that right now though. With Billy dead, is it possible that Dr Connors has truly given up? Will the Lizard revert to Connors at the end of this story?