Ladies and Gentlemen,

Welcome to 2010. The pieces of the Spider-man puzzle have finally been put together, resulting in the image below. Looks like really interesting stories to be written, or rather published soon.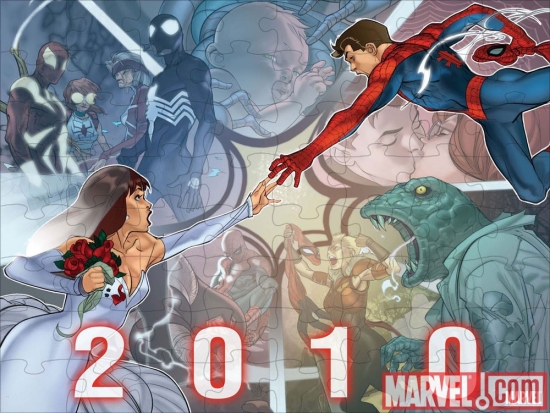 Anyhow, we see Spider-man in his Iron Spidey costume and Back in Black costume, standing beside Madam Web and the other Spider-woman ( Anya Corazen ). We last saw Anya and Madam Web, held captive by the Kraven family in Amazing Spider-man 611.Things get even more interesting with the image of a little baby, Peter Parker kissing a red head with glasses, the Lizard
, someone who looks like Ana Kraven beating up a Spidey costume, and I can't exactly make out the last image.
All of these are just background images for the main story of 2010 I suppose, aka Peter Parker reaching for Mary Jane.

Personal Thoughts

Lots of Speculation on message boards suggests that the red head with glasses that Peter is kissing is most probably Carlie Cooper. That is acceptable, although I am no fan of Carlie. However, if the opportunity to erase OMD does occur, and Peter Parker, out o the goodness of his heart, refuses because of his relationship with Carlie, I will kill myself.
Not really, but still.