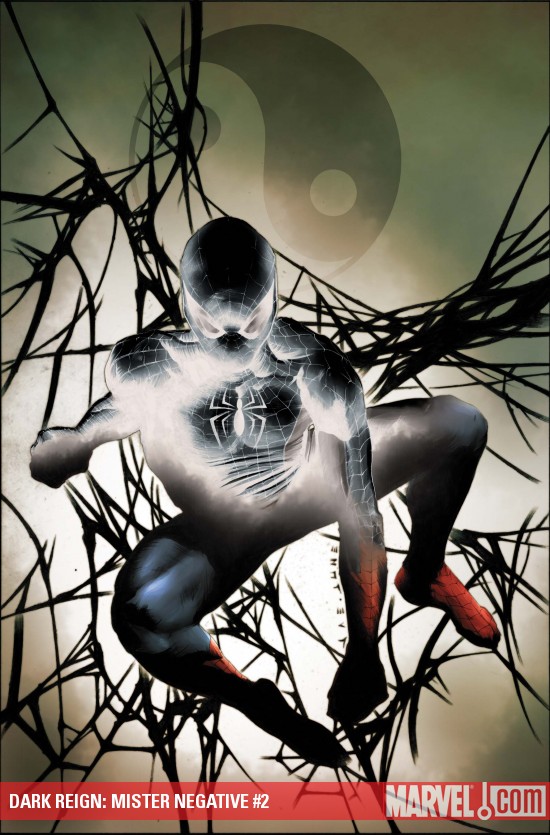 Dark regin: Mr Negative # 2 reveals more important information to the background of Mr Negative and what his
'evil touch'
actually does to a person.
The story starts exactly where it ended in issue # 1.
In this comic we get to understand what actually happens to a person who has been "negatived."
It starts with Spider-man doing his usual " My name is Peter Parker" thing.
Apparently, after being touched by Mr Negative, Spider-man's entire perception of his life has changed. He not only is following orders from Mr Negative, but has also become the opposite of what he stands for.
He considers his parents death as 'abandoning'
He says Uncle Ben begged for his life
He refers to uncle Ben and aunt may as his simpering uncle and old maid wife.
His reason for becoming spider-man is - Crime took his uncle away. So Crime is going to pay.
As we can see, Mr Negative's touch can be pretty messed up. While Spider-man is busy fighting the hood's gang members, Hammer head is given the task of sending a delivery to "someone"
In the mean time, Betty Brant discovers more curious information regarding Martin Li from Mrs Li, who in turn runs off upon the mentioning of Mr Negative.
Coming back to Hammer head, we next see him ramming into Norman Osborn's office - obviously to pass the package given by Mr Negative.
The story ends with Betty Brant chasing Mrs Li, who is heading for Mr Negative. Mr Negative then orders Spider-man to kill Betty.
The last scene is that of Mr Negative preparing to fight the Hood himself.
Related issues: